La décimonovena edición del Rototom Sunsplash, que se celebrará por tercer año consecutivo en Benicàssim (Castellón),
estará dedicada al 50º aniversario de la independencia de Jamaica, que coincide con el nacimiento de "The Wailers", la banda de Bob Marley. El evento se celebrará entre el 16 y el 22 de agosto con una fiesta gratuita que se desarrollará por las calles del municipio
el miércoles 15
.
Tributo a "The Wailers"
La actuación principal del mayor festival reggae de Europa tendrá lugar la medianoche del sábado con los directos de
Kymani Marley, Andrew Tosh
y
Marcia Griffiths, quienes rendirán tributo a
la banda que crearon Bob Marley y Peter Tosh (padres de los dos primeros) en Kingston (Jamaica) en 1963.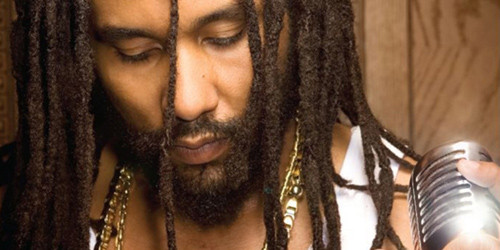 Kymani Marley, hijo de Bob Marley. / Foto: Caribepress.


Derrick Morgan y Alboroise
El jueves a las ocho de la tarde saltará al escenario Derrick Morgan,
considerado uno de los padres del ska, el primer estilo musical propiamente jamaicano y auténtica banda sonora de la independencia del país en 1962. Alborosie será el plato principal del viernes: el italiano afincado en la isla caribeña ofrecerá un concierto único en el Rototom con la participación de otros artistas como Michael Rose, Kymani Marley, Etana e Ikaya.
El "roots reggae" estará presente con artistas de la talla de Congos, Wailing Souls o Max Romeo. El estilo "dancehall" subirá al escenario principal con Johnny Osbourne y Beenie Man, donde también se escucharán las potentes voces de Freddie McGregor, Beres Hammond y Barrington Levy, que dará su único concierto en España este verano.

El combo de jazz formado por Ernest Ranglin, Sly & Robbie, Bitty McLean y Tyrone Downie, famoso por haber militado en los "Wailers" en los 70, ofrecerán una lectura mestiza y elegante de la música jamaicana.


Jah Shaka volverá a simbolizar en el Rototom la resistencia de los valores sociales y místicos del reggae, así como la influencia del "dub" en el Reino Unido. La carga más energética y divertida del "dancehall" llegará a través de Rory, histórico selector del "sound system" jamaicano, y del estilo inconfundible de Bass Odyssey, ganadores del World Sound Clash 2012.

Alpha Blondy

Además de los mejores músicos caribeños, el "main stage" contará con grandes artistas internacionales que han difundido el reggae por todos los rincones del planeta, como el costamarfileño Alpha Blondy (miércoles a las 0.50 h), el artista que más ha contribuido a llevar esta música a sus raíces en África. Los puertorriqueños Cultura Profética (lunes a las 22.30) -por primera vez en Europa- y los británicos Steel Pulse redondearán el cartel.


Calle 13
El extenso listado de cabezas de cartel del Rototom 2012 lo componen bandas de gran éxito, conocidas por su estimulante fusión de géneros: Calle 13 (martes a las 22.50), banda puertorriqueña ganadora de 19 premios Latin Grammy, que cerrará su gira europea en Benicàssim con un concierto especial; Muchachito Bombo Infierno, con su irresistibles rumba, funk y swing, herederos de Kiko Veneno; los italianos Giuliano Palma & The Bluebeaters, con su primera actuación en España en una de las citas más esperadas por el público ska; y Obrint Pas, ritmo, energía y compromiso en valenciano.

En el apartado local destaca la presencia de los castellonenses Bandits y Jamaican Memories en el escenario "ska club", así como Contratempo en el "showcase stage de Juanita club".
Prefestival del miércoles
Los primeros sonidos jamaicanos se escucharán en la fiesta del prefestival, que estará abierta a todo el público de forma gratuita el miércoles 15 en el casco urbano de Benicàssim. El legendario trío Mighty Diamonds, el cantante "roots" Pablo Moses y la pareja compuesta por Dennis Alcapone y Winston Reedy actuarán en la plaza de Les Corts Valencianes a partir de las 22 h, mientras que otros puntos de la localidad acogerán actividades para todos los públicos partiendo de una batucada a las 20.30 en la plaza de la Constitución.
Actividades gratuitas
El Rototom ofrecerá una programación
paralela al festival
abierta a todo el público y con entrada libre. Destaca el Sunbeach, una de las propuestas más exitosas en las dos ediciones anteriores y que este año se traslada a la playa de Heliópolis con sesiones de deejays, cursos de baile "dancehall" a cargo de Attitude Dance Crew, danza africana y talleres de circo bajo la coordinación de La Plana Tropikal Productions. Destaca el "Harmony beach" en la playa del torreón de Sant Vicent, con una muestra de las actividades dedicadas al bienestar (masajes, meditación…) y el "Off" que acogerá cuatro conciertos y batucadas los días 17, 18, 20 y 21 de agosto en distintos puntos del pueblo.
Premio al mejor concierto del año
Esta decimonovena edición se presenta con el respaldo de haber recibido el Rototom el premio al "Mejor concierto del año" en la reciente edición de los International Reggae And World Music Awards, celebrados en Chicago. Un galardón que sitúa a España en un lugar destacado dentro de la escena internacional y que se suma a otros reconocimientos como el de "Acontecimiento emblemático del decenio para la cultura de la paz", por parte de la Unesco.
Precios asequibles
El Rototom Sunsplash 2012 acogerá 100 actuaciones musicales en sus seis escenarios y 50 encuentros para reflexionar en el Foro Social y la Reggae University, además de distintos espacios lúdicos, educativos y gastronómicos. El abono para 7 días cuesta 175 euros en las taquillas del festival y 210 con camping. Las entradas de día están a la venta por 30 euros. Los menores de 12 años, los mayores de 65 y las personas con un 65% de discapacidad no pagan entrada.